Product Description
Simple and Secure. There are usually not enough support staff available to carry out disaster protection measures.
The Advantage of Aqua Barrier
Its cleverness lies in its simplicity. It is important to have a system available that can be put into action by anyone at any time. The individual components are designed in such a way that transport to the installation site is possible without any additional resources virtually anywhere.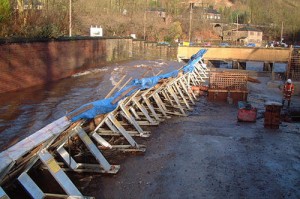 Pallet Support – EUR-Pallet – Membrane

This fold-away design saves space and forms the centre piece of the whole system. Additional components can be purchased at any time.
Great care was taken to use the fewest possible special components. This ensures rapid availability in the event of an emergency, something that could not be achieved if complex special parts were used.
EUR-pallets are easy to obtain. There are millions of them in circulation and are therefore available at all times. Furthermore, they are checked for load capacity, which contributes to the operational reliability of the unit.
The layout of the pallet support is determined by the required water level of 0.65 m or 0.95 m. As a rule, anchoring is not necessary. The EUR-pallets are then attached. Finally, the membrane is applied and secured. Due to the load – pallet weight and more importantly water pressure – the support grips the floor surface..
Water Level
In the first construction stage, it is possible to achieve two water levels. The EUR-pallets (1,200 mm x 800 mm) give two water levels of 0.65 m and 0.95 m. By using additional components that can be built onto the existing system, it is possible to achieve a water level of up to 1.80 m.
For this construction height, two EUR-pallets stand edgeways, one on top of the other. Since this second construction stage can be fitted onto the first, it is possible to increase the height without changing the basic protective dam.
The size of the membrane enables it to be appropriately secured to the front of the EUR-pallet. This can be done by piercing the turf or by appropriate loading, for example with sandbags or stones. Depending on the substrate, an extremely high level of leak tightness is achieved, which means that the area behind the protective wall is still accessible.
Cost Saving Advantages
Reduction in…
emergency staff used
assembly and dismantling time
expenditure on cleaning and clearing up
storage capacity
maintenance costs
No additional…
staff required to fill sandbags
procurement costs, e.g. for filling machines
maintenance costs (only need to be cleaned once after use)
Another advantage of Aqua Barrier that should not be underestimated is the very low weight of the protective wall.
Weight (support, pallet and membrane) per metre is significantly lower in comparison to sandbag dams (water level of 1 m gives around 1.5 t). Using Aqua Barrier to raise the height of a dyke leads to a relief of the load on the dyke.